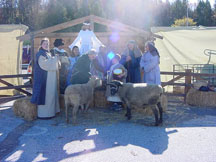 Mountain Shadow ranch, originally started out as an idea. We started first with rare breed dogs, the Kuvasz. This was in Southern California. Then a few years later I took up the hobby of spinning, then weaving. I already knew how to knit and crochet. In 1991, we were lucky enough to have my husband transferred to Sacramento. We purchased 5 acres in the foothills above Placerville in an area known as "Apple Hill". That's when, the sheep started to come and live with us. My original flock started out as three sheep, and grew from there. Right now I have 21 sheep, most of which are Cotswolds, but I do have a few crossbred sheep in the flock. As any spinner will tell you, you need more than one breed of sheep wool to spin. As I got into the sheep raising end of the ranch, I discovered I needed a way to market the fleeces from my sheep. A few friends helped me and we came up with the "Adopt a Sheep" program for spinners and knitters who have always wanted their own sheep, but couldn't due to living in an area where it wasn't possible.
But selling just sheep's wool wasn't enough, so I started selling fibers from other suppliers and then spinning and weaving equipment. Then came eBay. I have had great success on eBay. But there are lots of folks that don't do eBay, so I have a web site for them to browse through for their fiber and related purchases and now an Etsy store.
When we first moved up to Oregon we were between Creswell and Pleasant Hill on 20 acres with our sheep and llama but I quit breeding and eventually through the years the llama and sheep have passed on. We have moved to Cottage Grove and my shop is located at the back of our house and is bright and modern with air conditioning and heating. Please call first to make sure I'm at the shop before coming by.
The photo over to the side shows Toral and Katie staring in a Christmas pagent at the local Newspaper office in Placerville, Ca, the Mountain Democrat". My sheep are very well behaved and get asked to be in local plays and historic reenactments in Coloma, where gold was first discovered in California. My sheep have even been featured in SHEEP! Magazine, the Jan/Feb 2005 issue, and the local newspapers and local news channels.
Please feel free to email with any questions or suggestions.